Popular Australian blogger, Mia Freedman of mamamia, contributes to MinHipster today on the fall out from the launch of the Witchery Kids advertising campaign and their 'overly adult' use of their mini-models:
Whatever kind of day you're having? The people at Witchery are having a worse one. They are currently buried deep in the midst of what is commonly called hell. All because of the images used to launch their WitcheryKids range.
As I have said, oh every second week, I own rather a lot of Witchery. Clothes, shoes, accessories. I'm a fan. So I was tickled when I heard they were bringing out a kids' range since I'm always looking for well-priced, well-made basics for my lot.
When it was finally released a few weeks ago, the imagery I saw made me pause. Not in a good way. The clothes, I quite liked. The images, I didn't. I thought the kids looked sullen, posey and fashion-magish. Not in a sexualised way (I think that term is WAY over-used and there was nothing sexy about the catalogue shots) but just in an….adult modelly way. The way my daughter sometimes looks when she's having a strop and I have to scurry off to find her birth certificate to confirm that she is actually 4 and not 14.
Mothers of girls? You'll know what I'm saying.
So while I was really disappointed, I decided not to post about it because it didn't push my buttons in the same way as these images did . Or these. Not even close.
And I'm not of the belief the word 'sexualised' should apply here – are you?
However, to me, this is just a side of childhood that kids have in them that I don't like. The bit where they try to be adults or try to act like adults. I much prefer kids – my own and those in advertising to be smiling and laughing and being silly. Not trying adulthood on for size. But I am not a creative director of anything other than Mamamia so my opinion is just that.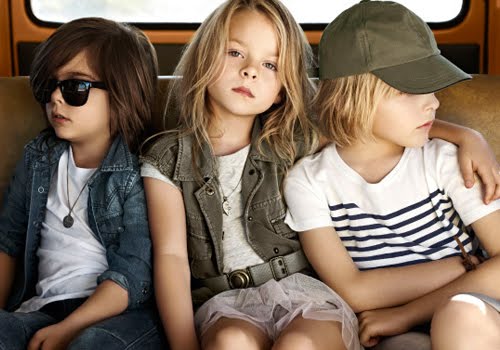 .
The timing was certainly interesting. I happened to be having a meeting with Witchery a few days later about something else and after several readers emailed me their concerns, I promised them I would share them with Witchery in that meeting. I did.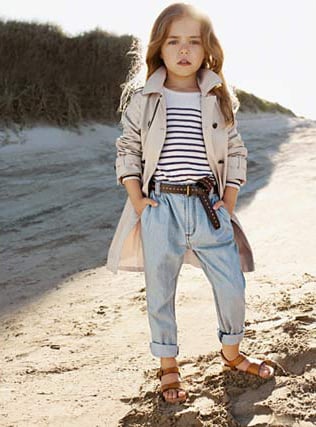 I also warned them that this was going to blow up I'm just surprised it took this long.
[TANGENT: My other annoyance (that I mentioned - gee, what a fun meeting it must have been for Witchery!) was that so many of the items in the catalogue pictures were captioned 'models own' which doesn't usually mean they're actually the models own, just that you can't buy them. Mostly 'models own' in a caption means they belong to the stylist or were sourced especially for the shoot - something that strikes me as very odd and frustrating given that we're talking about the launch of a kids' fashion brand - if I can't buy half the things in the shots, is there a point?
Especially when Witchery's adult accessories - shoes, hats, belts, bags - are among their strongest products. I can only assume it could have been the same for the kids' range. A lost opportunity, one that frequently happens when stylists get too tricky and lose sight of the fact they are creating more than a mood, they're trying to entice people to buy stuff. Stuff that they can see in the shots telling them to go buy stuff.]
I'm not about to go into detail about what we discussed in that meeting but I do believe that Witchery never intended to produce images that would cause controversy. Let alone be 'sexy'. I know the photographer personally, in fact. Used to work with her when I was in magazines. She is a mother and will probably be horrified by all this, as are the people at Witchery. As cynical as some might be, nobody intends to create a media tsunami like this. It's just not smart buisness. And that was certainly communicated to me at the meeting.
My belief is that it's just an indication of how out of touch the fashion world can be with the real world sometimes. That nobody looked at these shots and said "hang on", well, that's a bit surprising.
Here is a summary of the opinion on this story currently swirling including a statement from Witchery:
"We are disappointed to learn of the concerns surrounding our Witchery kids imagery, the intention of our campaign was to portray kids with confidence, individuality and a fashion attitude which we felt reflected the product range and our overall brand vision.

Overwhelmingly the majority of feedback we have received regarding our campaign and product range has been very positive. In August 2010 Witchery kids launched across 18 stores in Australia and New Zealand and the response has exceeded our expectations."

From their website: Witchery Kids is playful, candid and real. Our well-priced, seasonal collections for boys and girls aged 2 – 9 are inspired by up-to-the-minute adult trends and styled for the smaller set. We believe that fun and imagination are at the centre of every child's universe and our ranges reflect this. Confident and individual, WitcheryKids is for kids who want and know how to choose clothes that express their personality and desire for independence. It's time to grow up in style!
Blogger Jodie Benveniste from Parent Wellbeing said:
In this statement, WitcheryKids does appear to be taking a bet each way. They say they are styling kids according to adult trends, and suggest their clothes are a way for kids to look more 'grown-up'.

But they also talk about childhood as being about fun and imagination even though none of the kids in the advertising campaign look like they're having 'fun'. There is not a single smile.
From New York Magazine:
.

Kid Models Who 'Look Like Recalcitrant Teenagers' Called 'Dangerous'
Children's fashion no longer boils down to just bibs, stroller charms and the only Crocs most fashion-concerned people can excuse. High-end and mass labels have been cornering the market in recent years, especially lately since in hard economic times, grown people still allow themselves to spend on their kids. And even more recently, kids have skyrocketed to the high fashion runways. Chanel cast a male model who was literally 2 years old for yesterday's show, and two women have walked major shows this

season with their future children growing in their bellies. One thing is clear: Kids are not a game. They are now fashion.

But this is not something everyone can handle. Australian label Witchery is getting heat for treating its kids' clothes like adult clothes, and marketing them as such. The images you see here, in which the child models pose like jaded grown models, are offending children's charity Barnardos, for one.

A Barnardos spokeswoman explains:

"They look like recalcitrant teenagers, I think this is a really dangerous direction," she said. "I think it's offensive. The whole point of early childhood is to be joyous and free. Children as young as five are now going on diets, are worried about how they look, how they present—this just should not be an issue for children. It's really sad that people are trying to redefine what early childhood means."

Yes all children must be happy! However, she has a point about the posing — there's plenty of time later in life for that. Then again, they're probably only like a month away from starting their adult modeling careers.
From The Punch Editor David Penberthy:
.

There is an important and valid debate surrounding the sexualisation of children, and the images to which they are so readily and randomly exposed. It's pretty ordinary that you can't leave your kids in front of the TV on a Saturday morning for ten minutes without some ass-shaking hip-hop video popping up on the screen.

Equally, criminal charges should be considered against the people who invented Bratz dolls, which not only look like skanky tarts, but in their cartoon form teach kids how to backchat their parents (and squabble with their friends) in a smart-alec Californian tone. Finally I would encourage everyone to throw buckets of black paint over the billboards urging us all to have longer lasting sex.

That said, the folks at Kids Free 2B Kids have taken things to a crazy new level whereby they are now finding outrages where none exist.

This week's confected indignation involved a new line of kids' clothes by the perfectly reputable fashion retailer Witchery. The clobber looks like a smaller-sized version of the sort of smart-casual chambray and linen gear you'd get from Country Road or Gap – you know, the preferred weekend wear of us middle class folks with no eye for fashion.

But judging from the reaction of Kids Free 2B Kids – jeez I hate typing that – you would have thought that Witchery was trying to deck the kiddies out in Spandex and get them to re-enact the dance scene from Little Miss Sunshine.

They enlisted Barnados Ambassador and former Play School host Noni Hazelhurst to the cause.

"The whole point of early childhood is to be joyous and free," Hazelhurst said. "Children as young as five are now going on diets, are worried about how they look, how they present – this just should not be an issue for children. It's really sad that people are trying to redefine what early childhood means."

All of those points are legitimate ones, it's just hard to see what they've got to do with this bland, boring range of clothes, and the inoffensive advertisements promoting them.

It puts a decent company such as Witchery in an invidious position where – in the face of the totally preposterous imputation that they're perverts – they have to dignify the charges with a muted and balanced response when a "get real, are you people mad?" would be more apt. The whole affair says less about an ever-increasing threat to children, and more about our ever-increasing propensity for knee-jerk outrage where we splutter indignantly first and then think second.
So what do you think? Do you see a difference between images which are too 'adult' and images which are 'sexualised'?
Or do you just think that we need to take a collective chill pill?
Do I wish they'd re-shot the images? Sure. Will I continue to shop at Witchery? Absolutely.
In fact, I went to Chadstone to see the WitcheryKids range last month and bought a few bits for my daughter (the clothes aren't too adult, it's just the styling and art direction).
Thank-you to Mia Freedman & mamamia for permission to publish this article.